A LOOK AT LUCAS GLOVER'S REVIVAL IN 2019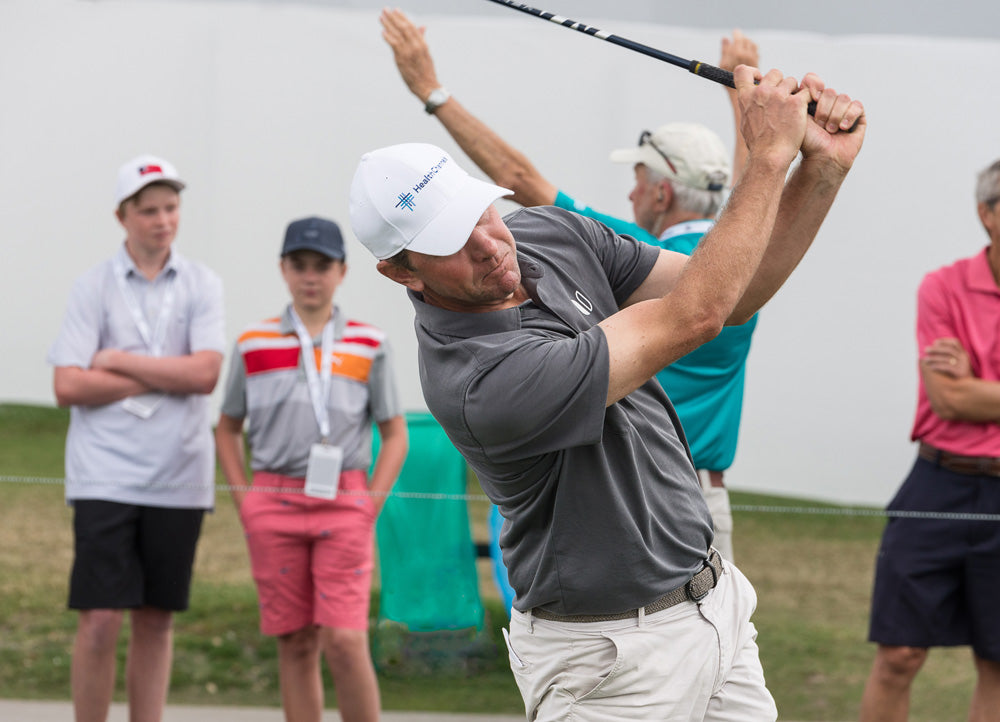 A year of revival is what you can refer to 2019 as being for ARGOLF Ambassador Lucas Glover. Just a year ago, Glover finished 135th in the FedEx Cup standings and lost his Tour card. However, he earned his status back through the Web.com Tour Finals last fall and went full charge into the new year. Glover's hard work through the year secured him a position into the FedEx Cup Playoffs finishing 32nd in the regular-season standings – ultimately landing himself a spot in the Tour Championship for the first time since 2009.
Despite this finish and the immense progress in his game during 2019, Lucas still had some work to do last month in order to make it to Atlanta for the Tour Championship. It started in Boston at the Northern Trust where a T-43 finish required him to go low in Chicago at the BMW Championship to advance. He accomplished this with a T-7 finish in a dramatic finish to convert a testy two-footer for par on the final hole to secure his play in Atlanta.
BACK IN THE HUNT AT A TOUR CHAMPIONSHIP
For the first time in 10 years, Glover was back in the hunt at a Tour Championship. It was ten years ago in 2009 when Glover set his personal best year with a tie for third and second place finish at the Buick Invitational and Quail Hollow Championship, respectively. Most notably, Glover then went on to win the U.S. Open at the Bethpage Black Course by two strokes over Phil Mickelson, David Duval, and Ricky Barnes. The year culminated with another win at the PGA Grand Slam of Golf in Bermuda and a second President's Cup bid.
Glover credits several factors for the improvement to his game – a (fairly) new instructor, a new mindset and a new putter. Glover has been working with golf instructor Tony Ruggiero for the past three years who has not only brought the fun back into the game for him, but also a proper swing. That is clearly evident when you look at his stats compared to last year and see an impressive improvement in his scoring average advancing him from 126th to 17th in rankings on the PGA Tour. Glover recorded 16 top-20 finishes in 2019 with 7 of them placing him in the top-10.
LUCAS GLOVER, AMBASSADOR OF ARGOLF BRAND
Glover joined the ARGOLF family at the very start of 2019 and found the ARTHUR putter to be his weapon of choice for the greens. With an ARGOLF blade putter in his bag for the 2019 season, Lucas Glover's putting game drastically improved which undoubtedly contributed to the overall enhanced performance we witnessed this year. Glover's stellar putting also accelerated him 73 spots in rankings for putts per round on the PGA Tour. Impressively enough, as ARGOLF has boasted about the higher level of control and consistency in longer putts, it is proven with Lucas' ranking at 4th on Tour for putts made between 15'-20'.
"We couldn't be prouder of Lucas' performance this past year," said ARGOLF Founder Olivier Colas. "It is a privilege to work with such a seasoned and talented professional. We are looking forward to what this upcoming season has in store for him."
Glover was a three-time High School All American before heading to Clemson University where he was named first-team All American in 2000 and 2001. In addition to three collegiate tournament wins, Glover also held the championship title at the South Carolina Amateur event for three consecutive years (1998-2000).
Upon his graduation from Clemson, Glover turned professional and joined the Nationwide Tour for two years before earning his PGA TOUR card in 2004. He secured his first PGA Tour victory in dramatic fashion at the FUNAI Classic in 2015 where he holed out a 35-yard bunker shot on the 18th hole to avoid a playoff.
Buy Lucas Glover's Putter Now »
---