Lucas Glover joins ARGOLF's ambassador team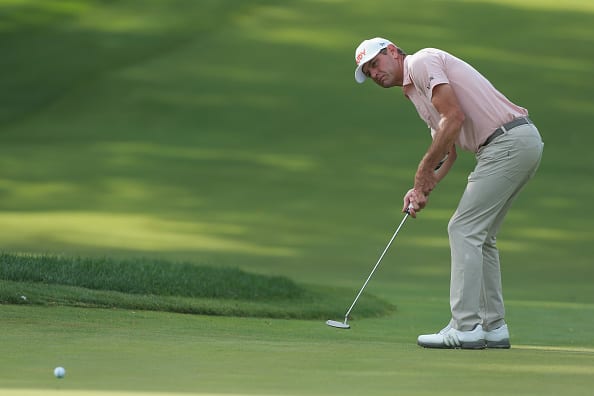 (Jupiter, Florida). ARGOLF has recently signed a one-year endorsement deal with 2009 U.S. Open Champion Lucas Glover. In part of the new relationship, Glover will carry an ARTHUR blade putter in his bag for the 2019 PGA Tour season. The ability to customize ARGOLF putters has proven to be key to not only amateurs, but accomplished professional golfers as well. Glover's Arthurian weapon on the greens will be extended to accommodate his arm lock putting style.
Glover finished the 2018 season ranked 135th for both FedExCup points and his Official World Golf Ranking. Now with his new ARGOLF putter in play, expectations are optimistically high for the South Carolina native in this upcoming season. "We are extremely proud to have Lucas Glover join the ARGOLF family," said ARGOLF Founder, Olivier Colas. "Lucas is not only an exceptional player on the course, but a fantastic man. We look forward to seeing great finishes and hopefully many wins with ARGOLF in the bag this season."
Glover was a three-time High School All American before heading to Clemson University where he was named first team All American in 2000 and 2001. In addition to three collegiate tournament wins, Glover also held the championship title at the South Carolina Amateur event for three consecutive years (1998-2000). Upon his graduation from Clemson, Glover turned professional and joined the Nationwide Tour for two years before earning his PGA TOUR card in 2004.
He secured his first PGA Tour victory in a dramatic fashion at the FUNAI Classic in 2015 where he holed out a 35-yard bunker shot on the 18th hole to avoid a playoff. His most successful year came in 2009 with a tie for third and second place finish at the Buick Invitational and Quail Hollow Championship, respectively. Glover then went on to win the U.S. Open at the Bethpage Black Course by two strokes over Phil Mickelson, David Duval, and Ricky Barnes.
The year culminated with another win at the PGA Grand Slam of Golf in Bermuda and a second President's Cup bid. His third PGA Tour win came in 2001 at the Wells Fargo Championship after a making par on the first playoff hole against Jonathan Byrd.
---